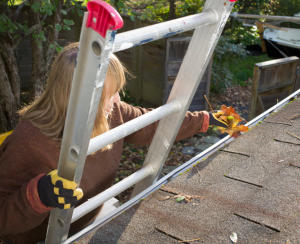 Maintaining your gutters isn't hard, but it does take a bit of TLC, periodically. Before assuming that they're in great shape, it's a good idea to get up on a ladder (with the help of a friend) and take a look at your gutter system. If you're unsure of what to look for, we've compiled a list of things that are important to take note of in order to keep your roofing and gutter system in tip-top shape.
Brackets. If your gutters are old, make sure you're examining the brackets that hold everything up and in place. Over time, these can become very loose and begin to sag, which leads to ineffective water diversion, corrosion, and dirt buildup. Not only do these look unappealing, but it can lead to a number of problems in the future.
Roofing. Your shingles are there to prevent your roof and home from the elements, and over time, they do take a beating. It's important to understand that these can deteriorate over time, and sometimes have to be replaced. Not only can this lead to leaks, but it can also lead to gutter problems, should something become lodged inside and block the flow of water.
Of course, many problems associated with your gutters can easily be solved with a Gutter Helmet. Instead of worrying about blockage and the dangers of climbing on a ladder, a Gutter Helmet eliminates the need to do so. With a system designed specifically to repel dirt and debris off of your roof, you'll never have to worry about cleaning your gutters again — and we mean it!
If you're thinking about having a Gutter Helmet installed, call Keystone Gutter Helmet and request a quote. We're proud to serve Wyomissing, and the surrounding areas. For tips, tricks, and to stay up to date on what we're doing, 'like' us on Facebook!