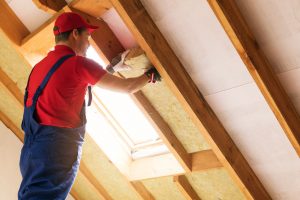 In addition to your roofing, there are a few more things you might want to look at when you're thinking about the top levels of your home. One being your roofing materials, and how you can properly insulate it to cut costs in your home. While this isn't directly related to gutter issues, you'd be surprised at the amount of money saved by properly insulating your attic. Additionally, there are benefits to doing so!
Heating And Cooling
By properly insulating your attic, hot and cold air won't escape so easily. This helps regulate the temperature in your home, allowing costs to be driven down. Think about it from a winter standpoint — it's also protecting cold air from snow and ice on your roof from trickling in. As an added bonus, Gutter Helmet heat paired with the insulation is a great way to keep your roof warmer and free it from ice.
Leaking
This refers to extreme situations, but there may be moments where you're faced with bad shingles or another problem that leads to a potential leak. By adding proper insulation, it might act as the last line of defense should a leak occur. This isn't the ideal situation, but it may save you and the contents of your attic the headache of something being soaked with water.
While you're thinking about your attic and roof, it might be a good time to install a Gutter Helmet. They'll help repel dirt and debris from your roof, while allowing water to freely flow outward. This can prevent flooding and save you a ton of time, and money.
If you're thinking about having a Gutter Helmet installed, call Keystone Gutter Helmet and request a quote. We're proud to serve Wyomissing, and the surrounding areas. For tips, tricks, and to stay up to date on what we're doing, 'like' us on Facebook!