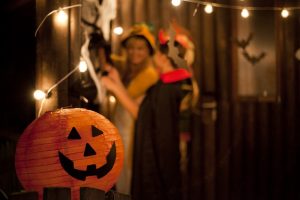 Listen up folks — Halloween is just around the corner, and we know you want to step up your spooky game this year. Forget the tradition lawn decorations, and turn your basement into a haunted house that the entire neighborhood can enjoy — or at least use to scare the annoying neighbors.
Set the Stage at Your Entrance
Whether you start it at your front door or at a separate entrance that leads straight to your basement, cover the doorframe in cobwebs and drape torn cloth or streamers over the door for a spooky sensory entrance.
Throw on Some Terrifying Tunes
Music can make or break a mood, so make sure you're playing some scary songs while people walk in your basement haunted house — brownie points if your tunes include some blood-curdling screams.
Light It Up…or Don't
Swap out the regular light bulbs in your basement for red, black, green, or dark purple ones. You can also set machines that cast shadows for an extra eery feeling. If you want to really create a sense of fear in your guests, switch off the lights and only use tiny spotlights to dimly light the room.
Go Crazy with Decorations
Drape torn tablecloths over furniture. Hang bats and spiders from the ceiling. Lay tombstones and bone across the floor for guests to stumble over. Go crazy! For a real scare, have someone hide in the basement and jump out to scare people.
No matter how you decide to turn your basement into a haunted house, you have to make sure it's finished first. Keystone Gutter Helmet can finish your basement to give you a space the entire family can enjoy. For more information or to get a free quote, call us at 610-372-4383.