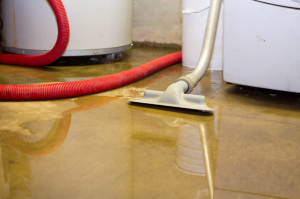 All it takes is one rainstorm to pour gallons of water into your basement, leaving you with not only a lot of water damage but also potential mold and electrical problems, amongst other things. If you want to avoid basement flooding, you need to take these necessary prevention steps to protect your home.
How Do I Avoid Basement Flooding?
Clean and Repair Your Gutters
If your gutters are filled with leaves and debris or are damaged in any way, they won't be able to properly drain water away from your home. Your gutters are one of the first lines of defense in your home — especially when the weather gets bad. Cleaning your gutters from buildup is a surefire way to keep moisture from sitting and ultimately entering your home. Alternative to getting up on a ladder every few months, a great way to prevent this from happening is the addition of a Gutter Helmet, which is designed to keep gutters clear of debris, and free from backing up.
Extend Your Downspouts
To more efficiently drain water away from your home, extended your downspouts a few feet farther out to the street. This will ensure water won't sit around the edge of your foundation and seep into your basement.
Fill Any Cracks
If there's space between two critical areas, it's likely that something will find its way through. To prevent this from happening, make sure that any cracks are entirely filled in and protected from the elements.
Check Around Your Home During a Storm
Brace the wind and rain during a storm, and take a walk around your home to see if water is sitting around the edge of your foundation. If it is, you should contact a landscaper to discuss redesigning your yard so water flows more easily away from your home.
Get A Sump Pump
An automatic sump pump can help you avoid basement flooding by draining water out of your home should some start getting in.
Your gutters are your home's first line of defense when it comes to avoiding basement flooding, so make sure to keep them debris-free with help from Keystone Gutter Helmet. Our patented gutter protection system keeps leaves and debris out of your gutters and has been rated #1 in Pennsylvania for over 30 years. For more information or to schedule a service, call us at 610-372-4383.