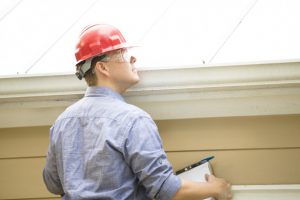 Whether it's to add a room onto your house or remodel your bathroom, hiring anyone to work on your home can be stressful. You're giving that person or team your hard-earned money to do good work on your home that you bought (also with your hard-earned money). When it comes to outdoor projects, skip the stress, and use these tips to choose a trustworthy gutter contractor.
A trustworthy gutter contractor will be…
Experienced With a Good Reputation
Just because a contractor's company has been around for years, it doesn't mean they do good work. Check the customer reviews online to see what other people who've used the company have said. Beyond that, see how they respond to negative reviews — if they take responsibility for the experience.
Licensed and Insured
While some cities and states don't require contractors to be licensed, you're better off hiring someone who is. If they aren't, you can end up paying fines and more fees after the job is done. And it is essential to hire someone who is insured. Think about it — this person is going to be up on a ladder dealing with your gutters. If he or she falls and isn't insured, the liability could land on you. Always asked to see the company's certificate of insurance before hiring them.
An Authorized Distributor/Installer
If you have gutters or gutter accessories installed by a contractor who is not authorized to sell and/or install them, you may not be entitled to the full product warranty. Most manufacturers offer a list of authorized dealers on their website for your reference.
Keystone Gutter Helmet has been an authorized dealer of Gutter Helmet systems for 33 years in Reading, PA. Plus, all our installers are factory trained and certified, with no less than five years of experience in the field. For more information or to get a free quote, call us at 610-372-4383.