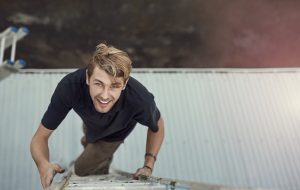 Now that fall has arrived, there's one major thing on everyone's mind — leaves. Kids want to play in them, adults want them rakes up and off their lawns, and bugs want to call them their new home. Since we're sure you don't want to deal with leaves clogging your gutters, you're probably going to climb up to your roof and clean them out. If you do, make sure you practice proper ladder safety.
Use a Sturdy Ladder
Use a ladder with grips on the legs to prevent it from sliding, bonus safety points if it has grips on the rungs. You should also get a ladder that reaches the heights you need so you don't end up stretching and falling off. And most importantly, use a ladder that is strong enough to hold your weight.
Place the Ladder on a Solid Foundation
Place the ladder on dry, solid ground, against a solid surface — never on a box or against a window. Fasten the top of the ladder to an upper support, and guard the ladder if it's near any doorway to ensure no one bumps into it or knocks it over.
Climb the Ladder Carefully
Only climb facing the ladder, gripping the rungs, maintaining at least 3-points of contain. When you get towards the top of the ladder, never go above the third top rung or lean off the side. If you need to bring tools, use a belt — don't worry them.
With a gutter protection system from Keystone Gutter Helmet, you'll never have to clean your gutters again! Custom-fit and meant to last a lifetime, Gutter Helmet will provide you with a world of convenience. For more information or to get a free quote, please call us at 610-372-4383.