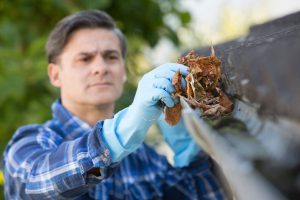 Soon the leaves will be turning and the crisp cool air will be upon us! While pumpkin picking time is just around the corner, it's also that time of year for your outdoor fall home maintenance. If cleaning your gutters is not on your fall to-do list, then it's probably a good idea to add it to your repertoire this autumn season!
Get your fall gutter cleaning checklist here to help you "tick it" off your list!
Safety First!
Before you get started, we can't stress enough the importance of safety when it comes to cleaning your gutters. While it's recommended to hire a professional gutter cleaner, here are some safety tips to keep in mind:
Wear protective gear – before heading out to get your gutter cleaning project started, make sure you wear a helmet to protect your precious noggin, and gloves so your digits don't get scrapes and cuts! Also be sure to wear rubber-soled shoes to help avoid slips and falls.
Use a sturdy ladder – If you've been using your dad's old rickety ladder circa 1970, it may be time to upgrade.
Ask a friend for help – Enlist a friend to help keep your ladder sturdy, especially if you may have to be positioned on uneven ground.
Tools of the Trade!
You'll be ready to start your gutter cleaning in a snap once you gather the following items:
Large scooper – (you can also use a trowel or garden spade)
Industrial grade handheld brush
Drop cloth or tarp
Large trash bags
Hose with spray nozzle
First Things First!
It's best to start cleaning from the downspout and work toward the center of the gutter. Use your trowel to scoop up sticks, leaves, and other debris that have piled up and drop onto the drop cloth. Once you remove all debris, you can scoop up the debris into your trash bag for proper disposal.
Inspect It!
Before you consider your gutter cleaning project completed, take a look at the gutter for any signs of cracks, holes, rust or corrosion. Should you find any damage upon inspection, don't put off the repair. Contact a gutter repair professional to fix the problem so you won't head into the colder months with a headache.
Hose it Down!
Last, but not least, take a hose and give it a good spray to remove any remaining debris and dirt. It'll be lookin' spiffy and clean in no time!
Congratulations if you're up to the gutter cleaning task! However, if you've got too much on your home maintenance list this fall, don't let gutter cleaning fall to the wayside. Keystone Gutter Helmet can handle the job! Contact us today. We are highly qualified to help you with all your gutter installation, repair, and maintenance needs.