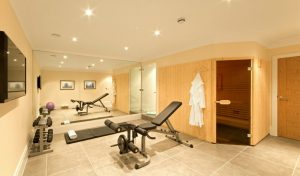 We always support an effort to stay in shape and lead a healthy lifestyle. But the prices some of those gym memberships go for can sometimes deter people from getting in their daily workouts.
If you're big into fitness but not that big into expensive gym prices, why not bring the equipment to you and set up your own home gym?

If you're thinking of designing a gym in your basement, here are a few things you'll need to consider.
The Flooring
When you're going to be doing mountain climbers on the floor, you're going to want a material that's a bit more comfortable than hardwood or concrete. Your flooring will also need to be durable enough to withstand dropping weights on it. It's best to lay down rubber or foam tiles or mats on top of your flooring.
The Walls
If you really want to focus on your form and make sure you're doing your workouts the right way, you're going to need plenty of mirrors to keep an eye on yourself. Wall-to-wall mirrors also help your basement gym look bigger and reflect more natural light from any basement windows.
The Sound
No workout is complete without a good playlist to keep you motivated. Outfitting your basement gym with a few speakers can help create a more focused workout environment. If you're more of a runner, you could add a small TV so you can watch your favorite show while you job a few miles.
The Storage
If you're going to have a number of free weights, resistance bands, and other gym equipment spread out throughout your basement, make sure you have several storage racks to keep everything organized and clutter-free.
For all your basement remodel needs, give Keystone Gutter Helmet a call. We'd be happy to give you a free estimate on any projects you may be considering for your home. References are available & we are fully insured.