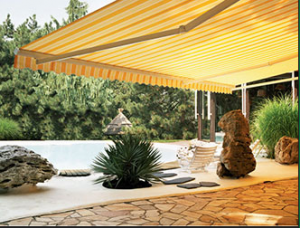 You may love all things nature, but sometimes the heat and elements can keep you indoors. If you are looking to enhance the enjoyment of your outdoor space, perhaps you may need to add more shelter and shade. You could use an outdoor umbrella to add some shade, but that comes with some disadvantages. So, if you are tired of putting up and taking down the portable umbrella, why not opt for a more permanent solution!
Surround yourself with the beauty of nature anytime you want! Here are some reasons why a SunShade Awning has a lot to offer.
Made in the Shade!
Installing an outdoor awning can only enhance the appearance of your outdoor space. An aesthetically pleasing yard will make you want to use it more. So, sit back and relax with a good book under your new awning while you watch the kids play in the yard!
It's a Party!
Bring the party outdoors and show your guests a great time! Having a shady area outdoors where you can entertain, will keep guests more comfortable and less of a mess indoors! So, set up the margarita machine and put out some snacks. Your guests will be impressed!
You've Got Style!
SunShade Awnings come in a variety of fabrics, patterns, and colors. So, whatever your style may be, your Sunshade Awning can be made to order. Whether you prefer solids, patterns or stripes, you'll have a custom mad SunShade that fits your taste perfectly!
Don't Fade Away!
Keeping your outdoor furniture exposed to the sun for long periods of time can cause fading as well as accelerate wear and tear. So, protect your outdoor furniture from the elements and install a Sunshade Awning.
Sun Protection!
It's no secret that sitting in the direct sun can cause damage to your skin. Having an awning can give you the benefits of enjoying the outdoors without being exposed to harmful UV rays.
If you want to take your outdoor living space from ordinary to extraordinary, Keystone Gutter Helmet can help! Our trained and highly skilled technicians can help you bring your vision to life with a custom made SunShade Awning for you to enjoy for years to come!